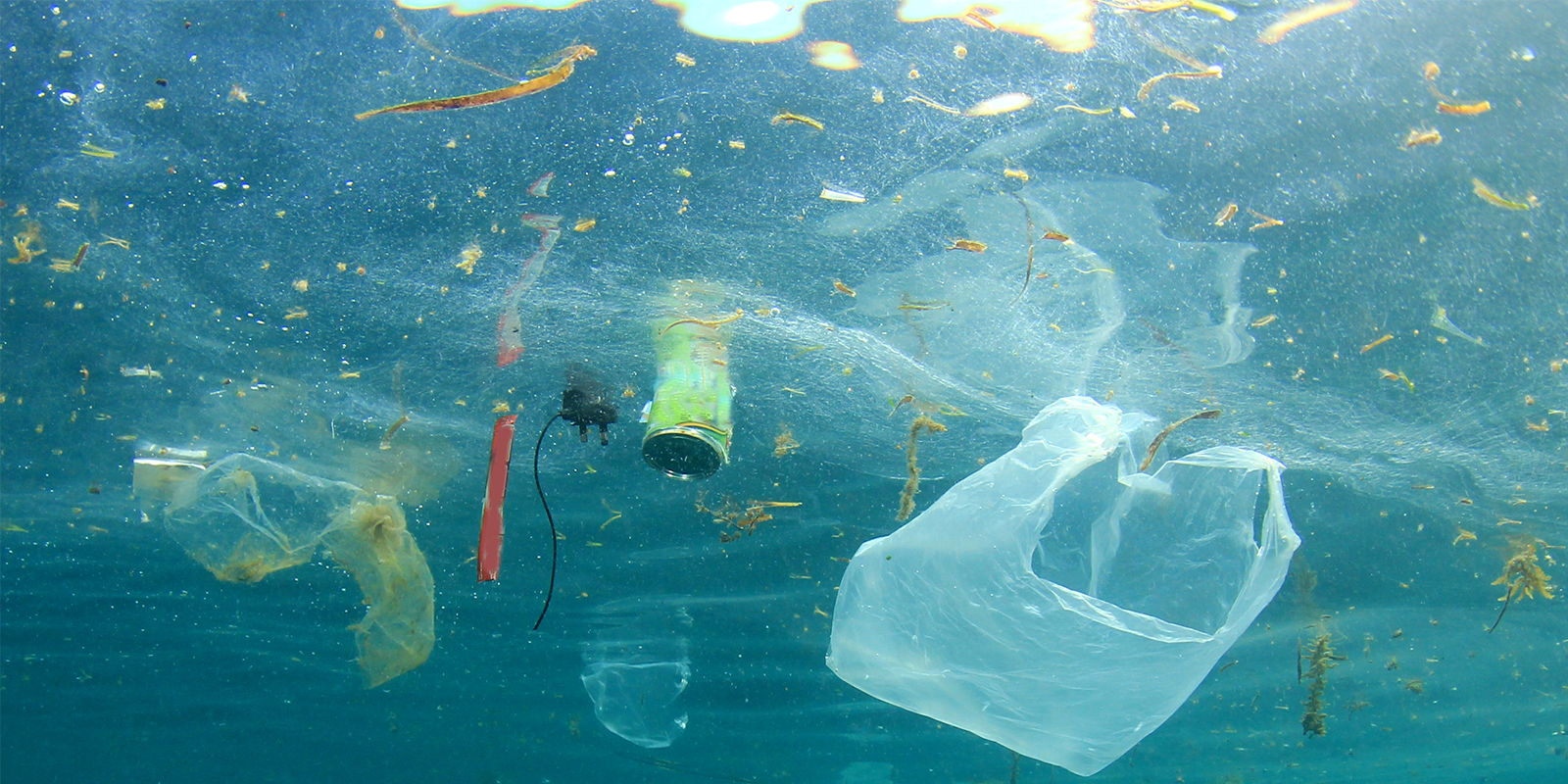 Microplastics
Cosmetics, clothing or car tyres - many everyday items and products contain or cause microplastics and therefore impact the environment. Berlin's drinking water is free from microplastics, yet microplastic particles are increasingly detectable in the wastewater. Each person must therefore be called upon to prevent inputs of microplastics in wastewater. We explain this topic to you on our service page.
Are there microplastics in drinking water?
We abstract our drinking water from deep groundwater layers. Water that percolates there passes through at least 30 metre thick soil layers over months and years. This natural and gigantic filter layer is impenetrable for undissolved substances such as microplastic particles, bacteria and viruses. The drinking water is therefore free from microplastics.
Do microplastics occur in the water cycle?
Microplastics occur in rivers and lakes, i.e. in surface waters. Larger plastic objects such as bags are gradually mechanically ground in the waters. The plastic is not degraded, it is only broken up into ever smaller particles. In cities, around one third of the microplastics detected come from tyre wear particles, which are flushed into our waters by surface water. When sports and functional clothing made of synthetic fibres is washed, minute particles can also detach from the clothing, which are not filtered out in the wastewater treatment plant and so get back into nature.
There is no precise definition of the term microplastics. Scientists name particles that are larger than 5 mm macro-(large)-plastic. Mesoplastic (medium) is the name given to particles with a size between 0.1 and 5 mm. Plastic particles that are between 0.1 and 100 μm in size are named microplastics. Microplastic particles between one millionth and one tenth of a millimetre are therefore tiny and cannot be detected by the human eye. However, plastic particles can be even smaller. Microplastic particles are limited downwards by the definition of nanoparticles (nano = one billionth (109), namely within a size range between 1 and 100 nm. One centimetre has 10 million nanometres.
How are microplastics formed?
Microplastics are formed in two different ways. So-called "primary microplastics" are produced directly by industry. The granulate – also named pellets – is used for the manufacture of plastic products. It also exists in a smaller form as cheap filler or for cleaning effects in shower gels, peelings, shampoos or toothpaste as well as cleaning agents.
"Secondary microplastics" Are formed when large plastic parts increasingly decompose. This occurs, for example, when plastic waste gets into the environment where they increasingly decompose due to the sun, friction and weather effects. Plastic fibres that detach from textiles when they are washed or tyre wear particles when a car is driven are named secondary microplastics.
What does Berliner Wasserbetriebe do against microplastics in the water cycle?
We are currently actively involved in several research projects with the Technische Universität Berlin and other partners. In the Microplastics in the Water Cycle research project (MiWa – Mikroplastik im Wasserkreislauf) – that researches whether and what effect the use of plastics has on humans and the environment. The project is funded by the Federal Ministry of Education and Research (Bundesministerium für Forschung und Entwicklung). To this end, an initial clear and comprehensive balance and assessment of microplastics in the water cycle – comparable with the organic trace substances – is to be drawn up. This assessment will be based on standardised analytical methods and thus supply reliable data on the occurrence of microplastics in the water cycle. Within the scope of the project we are operating a pile fabric filter as a test system in Ruhleben and examine the extent to which it is suitable for removing microplastics compared to other further wastewater treatment processes.
In another research project, tyre wear particles in surface water are being examined. To this end, tests took place in Tegel surface water treatment plant, to measure microplastics in the inlet of the north ditch.
How can I found out all the places where microplastics are found?
Information on the topic of microplastics can be found in diverse purchase guides and brochures. The Plastic Atlas of the Heinrch Böll Foundation (Plastikatlas der Heinrich-Böll-Stiftung) contains facts and figures on the topic of plastic. The BUND Shopping Guide, (BUND-Einkaufsgeber) produced by Friends of the Earth Germany lists products whose ingredients contain one or several of the described plastics. Another source of support is the CodeCheck app, with which you can receive information on the ingredients of products by scanning individual barcodes. We have set a ling to the app for you at the bottom of the page.
We have put together a list of common plastics for you. A look at the ingredients of the products reveals whether they contain a plastic.
Plastics in cosmetic and care products
| Full name | Abbreviated name |
| --- | --- |
| Acrylate copolymer | AC |
| Acrylate crosspolymer | ACS |
| Dimethiconol | |
| Methicone | |
| Polyamide | PA, nylon |
| Polyacrylate | PA |
| Polymethyl methacrylate | PMMA |
| Polyquaternium | PQ |
| Polyethylene | PE |
| Polyethylene glycol | PEG |
| Polyethylene terephthalate | PET |
| Polypropylene | PP |
| Polypropylene glycol | PPG |
| Polystyrene | PS |
| Polyurethane | PUR |
| Siloxane | |
| Silsesquioxane | |
With this app you always have an advisor at your side when shopping. Simply scan the barcode of a product and find out what constituents it contains and whether microplastics are hidden in them.